Finding affordable accommodation is not very easy especially during the festive seasons. Things were not this way in the hospitality industry, but the demand for hotel rooms has forced investors in this industry to increase their prices significantly. However, this does not mean that you cannot find attractive deals to save money spent on hotel rooms. There are many money saving tricks to use when it comes to finding accommodation during a vacation. Here are a few tips that will help you get cheap hotel rooms.
Go for inclusive deals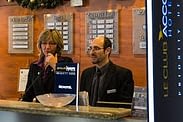 It can be frustrating to get a great deal only to realize that there are lots of other additional charges like parking fees and resort fees among others. In this regard, you should always be looking at things like free parking and free Wi-Fi, when comparing different hotel rates. Failure this, what might seem cheap might turn out to be very expensive. As a tip, always make an effort of looking at what is included in the package.
Go for business hotels
Most business hotels do not offer all those flashy amenities common to resorts. The good thing is that you get somewhere to rest and at the same time trim your budget. Durig the summer months or weekends, you might be surprised to have all resorts booked whereas business hotels remain slow. Thus, you are more likely to get a decent deal at these facilities during their off-peak times.
Buy someone else's reservation
Another cost-cutting measure to use when looking for cheap accommodating is to buy someone's reservation. Many are times when people make hotel reservations only to change the mind when it is too late. Some sites will connect you with travelers who are stuck with bookings they do not need. In most instances, you will be able to get the room at a discount.
Use the HotelTonight app
At times, you might e busy looking for cheap hotel rooms only to realize that time is not on your side. HotelToningt is a Smartphone app that can be of great help for people looking for last minute hotel deals and at the same time at discounted rates. This app lets you know all unsold hotel rooms in a given area.…