Skiing is one of the most popular games in the temperate areas. It is also common in winter Olympic Games. Many people have been enjoying their ski holidays in winter. It has also attracted many young kids who want to ski like their parents. This article is going to guide the best steps of improving your ski skills and thus make your ski trip more fantastic this year. Many people have been using these techniques when they want to ski fast thereby improving their skills.
Get to know where you are
Establishing your level is one of the most critical steps as far as skiing is concerned. By so doing, you will be capable of getting faster and gaining more power when skiing. You should use a stopwatch to record your speed on a chosen slope. This will help you in deciding how fast you want to be at the end of the day or holiday. The target set should be realistic. It should be based on your current speed.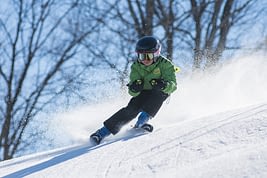 Up your fitness
This is done by visiting the gym before heading off for your skiing holiday. Skiing is an activity that requires the highest degree of fitness. Again, it is also important to maintain your fitness when you are away. Improving your fitness level will help you in achieving better results. In addition to this, interval training is helpful in increasing strength and speed. On the other hand, squats are effective in improving the strength of the leg muscles, which is essential for skiing.
Improving your technique
Aim at improving your techniques once you have improved your fitness level. Pushing the shins against the ankles will help you in applying more pressure on your skis. It will also assist you in sliding down the slope. The arms should be kept parallel to the body. This will ensure that your body is balanced. Pushing your chest forward will help you in achieving greater momentum.
Avoid overdoing it
As far as skiing is concerned, resting is imperative. You should make sure that you are getting enough sleep and giving yourself a break in between the training sessions. This is the best way of giving your body enough time for recovery. Practising throughout without resting can zap your strength and energy because your body will be burning more calories. This can result in poor results.…